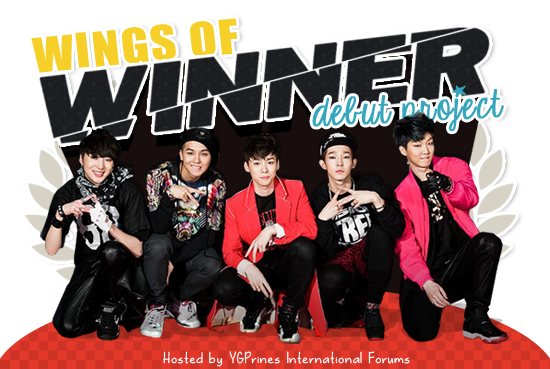 Description
I think that we all know and are anticipating that WINNER are planned to debut in this upcoming winter, but YG (being the troll he is) has yet to give us a permanent and confirmed date. So although we still don't know when yet, YG Princes will be hosting the WINNER debut support project, titled as 'Wings of WINNER' (also known as WOW)

To make this project extra special, instead of just a traditional message book, we're going to be writing the messages in message pills instead as well as letting all of you send in your gifts that you want to give to WINNER. We will be sending everything to Double V, a Korean fansite for WINNER, who will in turn, personally give our gifts to WINNER!

Symbolism
You may be wondering, why is it called 'Wings of WINNER'? If you recall, the self-composed song of Team A (now WINNER), called "Go Up", contained the lyrics:

"Let's go up in the sky, we'll go up"

With that verse in mind, we titled this project 'Wings of WINNER', because not only did it connect with "Go Up" but also because it signified WINNER unfurling their wings and being ready to take their first flight and ready to make their mark on the world.

Guidelines
1) All messages must be 25 words or less.
2) Donors may write up to 50 words. Please click http://ygprinces.b1.jcink.com/index.php?showtopic=390 to donate.
3) Do not send any heavy, large, illegal, or flammable gifts or else the package may get stopped by customs. (We will accept edible gifts as long as they are sealed/pre-packaged.)
4) We don't recommend sending fragile gifts, simply because it may get broken during the shipping process.
5) If you would like to send a gift, please PM me first, so that I can tell you whether we can accept your gift or not.

Gifts
We are keeping gifts very simple and fun this time, so that fans may send in their own gifts as they wish:
http://handmadekpopgoods.tumblr.com - $45
http://simplyclevertoys.com/magnetic-thinking-putty - $25
Message Pills & Bottles - $50
Snapbacks/Beanies - $125

Total: $245

If we reach past our goal, we will use the remaining donations for other gifts.

Charity
With WINNER's first step into the world, we at YG Princes would also like to make our first step into the world by doing good deeds. We are planning on donating at least $100 to World Vision, in their http://donate.worldvision.org/OA_HTML/xxwv2ibeCCtpSctDspRte.jsp?funnel=dn&go=section§ion=10392& section. Please visit http://ygprinces.b1.jcink.com/index.php?showtopic=390 to donate.

An excerpt from their mission:


QUOTE

World Vision is a Christian relief and development organization dedicated to helping children, families, and communities worldwide reach their full potential by tackling the causes of poverty and injustice.

We help transform the lives of the world's poorest children and families in nearly 100 countries, including the United States, through interventions such as nutrition and safe drinking water programs, poverty relief and community development initiatives, disaster response, and more. Our non-profit work extends assistance to all people, regardless of religious beliefs, gender, race, or ethnic background.




Click http://ygprinces.b1.jcink.com/index.php?showtopic=392 to send your message to WINNER!






Please help us promote this project by using these banners!


CODE
[url=http://ygprinces.b1.jcink.com/index.php?showtopic=391][img]http://i1092.photobucket.com/albums/i406/xaesmaere/YGP/WINGS.png[/img][/url]